Limousine service Sylt
Chauffeur service on the most beautiful island of Germany
Your chauffeur and limousine service on Sylt
With about 15,000 inhabitants and lying in the North Sea close to Denmark, Sylt is the northernmost island in Germany. "The Island of the Rich and Beautiful" is what she likes to call after Gunter Sachs discovered her more or less in the 60s for a special clientele of tourism. But not only those – all love the endless fine sandy beaches on the western side of the island or even the mud of the Wadden Sea Conservation Area on the opposite eastern side.
Getting there
It can only be reached by car via the Hindenburgdamm or by ferry from the Danish island of Rømø. This also explains the very different travel times with +/- 3 hours from Hamburg – depending on how long the waiting time for the DB Autozug lasts. However, there is also a small airport on Sylt, where our chauffeur gladly takes you with your luggage and brings you to your destination on the island with our limousine or even with your own car, which we pick up from you in advance.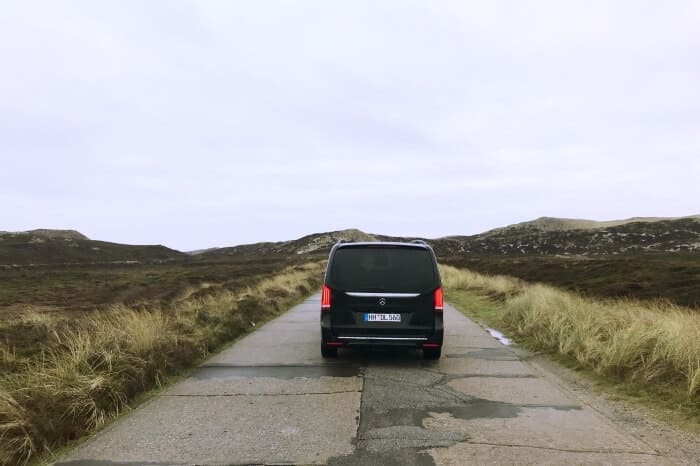 Always available for you
Our Limousine Service Office is there for you 24/7
Premium vehicles
Our vehicles are not older than two years and luxuriously equipped
Flexibility
Free changes or cancellations up to 24 hours before pickup
The culinary side of the island
Use our Limousine Service Sylt not only as a pure transport service for transfer to the island – you can also use us as a chauffeur service on the island. Our German and English speaking chauffeurs take you to the best restaurants for which Sylt is also known. Whether in Westerland, Kampen with the famous "Whiskey Mile", now also famous " Sansibar " between Rantum and Hörnum or "Gosch", represented in several ways – our drivers will take care of you accordingly.
Sylt athletic
But in addition to the beautiful, cozy and partially quaint thatched cottages, which provide between List, Hörnum and Morsum for the Nordic flair, it can also be quite sporty on Sylt. In Keitum, for example, polo tournaments take place every year; on the so-called "elbow" in List, the wind and water conditions are ideal for kitesurfing. The same applies to the "Windsurf World Cup Sylt" in Westerland. You notice: Sylt has so much to offer.
10
Years of experience
---
For 10 years we offer limousine service in the north
23
Vehicles
---
From the S-Class to the VIP Sprinter, our fleet covers every wish
19
Chauffeurs
---
Our chauffeurs are multilingual, professional and service oriented
365
Days
---
Our office is available 24/7
Address
Driversline GmbH
Wildgansstrasse 3f, 22145 Hamburg
Contact us
For your concerns please use our inquiry form or contact our team directly by e-mail info@driversline.de
FAQ - Frequently Asked Questions
Which payment options do I have?
We offer the possibility to pay by credit card, invoice, PayPal or in cash.
Which language does the chauffeur speak?
We have chauffeurs who speak German, English, Italian, Russian or Arabic. If desired, indicate the respective language.
What cancellation options do I have?
Airport transfers can be canceled up to 24 hours prior to pick-up. Further cancellations depend on the order volume.
How long does the driver wait?
For regular pickups on Sylt, 15 minutes and 60 minutes for airport transfers from Hamburg Airport are included.
Can a stop be made?
A short stopover for a quick getaway on the way to the destination is of course possible with regular transfers, longer stops or detours can be arranged separately.
Can I contact the chauffeur before driving?
Yes, you will receive the contact details of your chauffeur one day before the start of your order.