Shuttle service Hamburg
More than a driving service
Shuttle service from Driversline
Use our limousine service as shuttle service Hamburg for your event and we will make sure that your guests or customers get from A to B appropriately by our trained chauffeurs. Because Hamburg as the second largest city of Germany is chosen again and again with pleasure for big company events or conferences. In these cases the participants arrive mostly by plane or by train. We can arrange transfers for you with our drivers from Hamburg airport or from the train stations to the hotel. From there again – or directly – to your desired destination.
Always available for you
Our limousine service office is there for you 24/7
Premium vehicles
From Mercedes Maybach to VIP Sprinter. The right limousine for every wish
Professional chauffeur
Your personal concierge in the car
VIP shuttle, event driving service etc.
We take care of your shuttle service, because Hamburg is a city-state, the distances can sometimes be quite long. The "Schuppen 52", for example, is an old warehouse as an event location in the harbor and is therefore on the other side of the Elbe, where there are also some musical theaters, such as Disney's The Lion King from Stage Entertainment. Or for weddings, the popular baroque half-timbered church in Nienstedten on the famous Elbchaussee, which is also far outside the city center.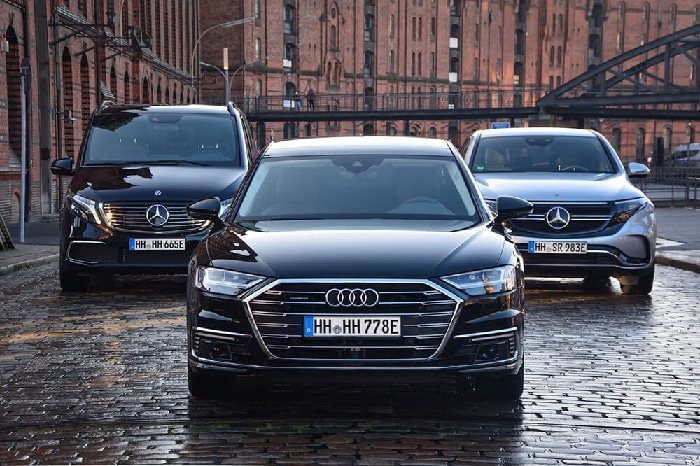 Congress Center Hamburg and Messe Hamburg
If you are planning a golf tournament for your guests, both the Golf & Country Club Treudelberg and the Golf Club Wendlohe would be further away. But of course there are also reasons for a shuttle service within the city center. There are the halls of the Hamburg Messe or the Congress Centrum Hamburg, or "CCH" for short, which also offer to bring your customers to your exhibition stand, conference or congress. And maybe later in a restaurant. Whatever you choose, we will design your personal shuttle service according to your wishes.
FAQ - Frequently Asked Questions
Do you offer the shuttle service for events?
We offer our shuttle service for events, trade fairs or even weddings. With our extensive fleet we can offer you flexible mobility solutions.
Can larger groups of people also be transported?
We are happy to offer you the driving service also for larger groups. From VIP Sprinter to bus with 46 seats we can offer you individual solutions.
Can transfers be made to different destinations?
We will gladly drive to the destinations you or your guests desire.
Which payment options do I have?
We offer the option of paying by credit card, invoice, PayPal or in cash.
Airport shuttle
Of course, the Driversline shuttle service not only includes that you or your guests are driven by our chauffeurs from A to B, it also includes our special chauffeur service. This includes, for example, pick-up at the main train station directly from the platform or at Hamburg Airport on the baggage carousel by our drivers to make your arrival as comfortable and convenient as possible for your guests. It is mandatory for our Hamburg shuttle service that we take care of the luggage on arrival and of course also on departure.